On February 1, 2008, Mishima Paper Co., Ltd. became a wholly owned subsidiary of Nippon Paper Group, Inc. and, on April 1, 2008, absorbed Kochi Mill of Nippon Daishowa Paperboard, Co., Ltd. At the same time, it altered its corporate name to "Nippon Paper Papylia" for a new start.
"Nippon Paper Papylia" aims to become a leading company of specialty paper industry with its outstanding capacity for technological development.
President's Message

As a member of the Nippon Paper Group, Nippon Paper Papylia Co., Ltd., is engaged in the specialty paper business, one of the Group's core businesses. Nippon Paper Papylia was established in April 2008 through the integration of Mishima Paper Co., Ltd., and the specialty paper operations of Nippon Daishowa Paperboard Co., Ltd. Since then, we have been working to refine our thin paper, specialty paper, and functional paper products by leveraging proprietary technologies, which draw on the combined strengths of our advanced thin paper technologies and Japanese paper-making techniques.
Amid today's profound technological innovations, while the market for general printing paper is contracting, demand for paper as a material is expanding in line with growing expectations for added value. This is why Nippon Paper Papylia is accelerating technical progress at its research centers in the cities of Fuji and Kochi in collaboration with various companies in the Nippon Paper Group, while striving to develop innovative technologies and all-new products one step ahead of the paper industry.

At Nippon Paper Papylia, we are committed to providing a wide spectrum of carefully crafted small-lot products that meet the diverse needs of customers, and to contributing to society through sound and fair business practices that benefit all of our stakeholders.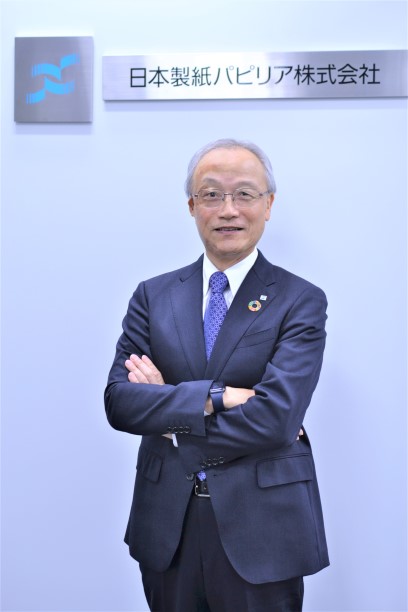 Corporate Profile
Company
NIPPON PAPER PAPYLIA CO., LTD.
Founded
July 25, 1918
Head Office
4-6 Kanda Surugadai
Chiyoda-ku, Tokyo, 101-0062, Japan
President
Yasuhiko Nishiguchi
Capital
3,949 million yen
Net Sales
19,400 million yen
Number of Employees
451
Main Financing Bank
Sumitomo Mitsui Banking Corporation
Website
https://www.papylia.com/