Washi Paper, Washi Tissue Paper
Tape Base paper for Masking and various kinds of Tape
We have been manufacturing
Washi Paper
Washi Tissue Paper
as the base paper for various tapes especially for masking tapes. (flat masking tape)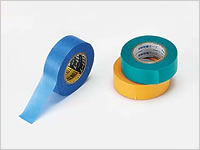 Our production machine is not so large, but
We can come through with small quantity order.
We can come through with custom made.
And we have some coating machines.
These coating machines can coat resins for
Make paper character soft and stretchable.
Form a film layer on the paper surface to prevent adhesive resin from passing through paper layer.
These days, Masking tapes (Flat type) made from Washi Paper (Washi Tissue Paper) are highly evaluated by actual consumers (construction industries and painting company, DIY stores ) at the feather of fitting on curved surfaces and light unwinding force.
We have long experience about the manufacturing of Washi Paper, its area is not only masking tape but also double side adhesive tape, packing tape, surgical tape and other items.
And our strong point is we have proficient staffs in our overseas department.
We respect for customer's voice by direct communication and direct trading.
If you have any questions and any interest in Washi Paper (Washi Tissue Paper), please feel free to contact us.